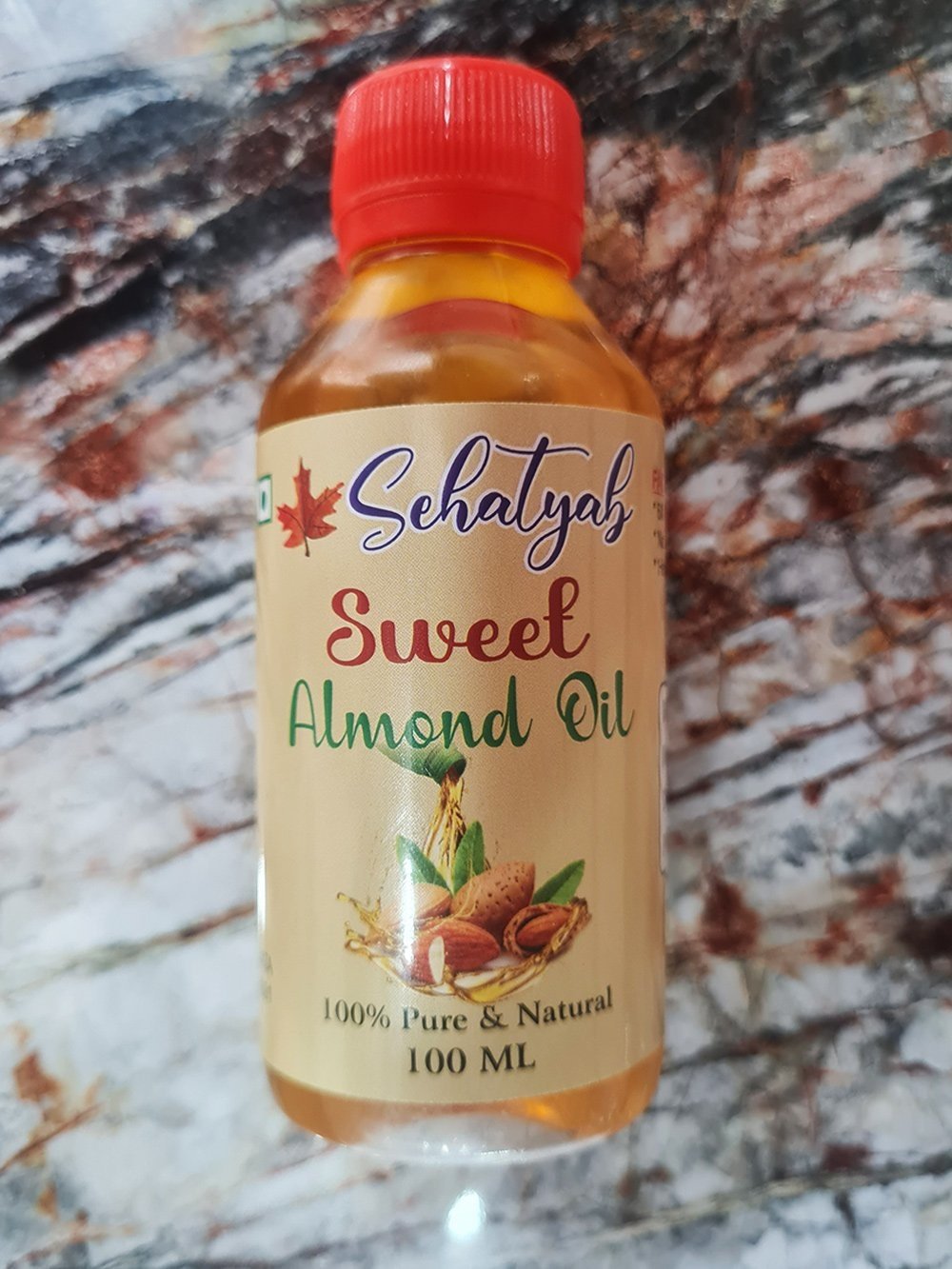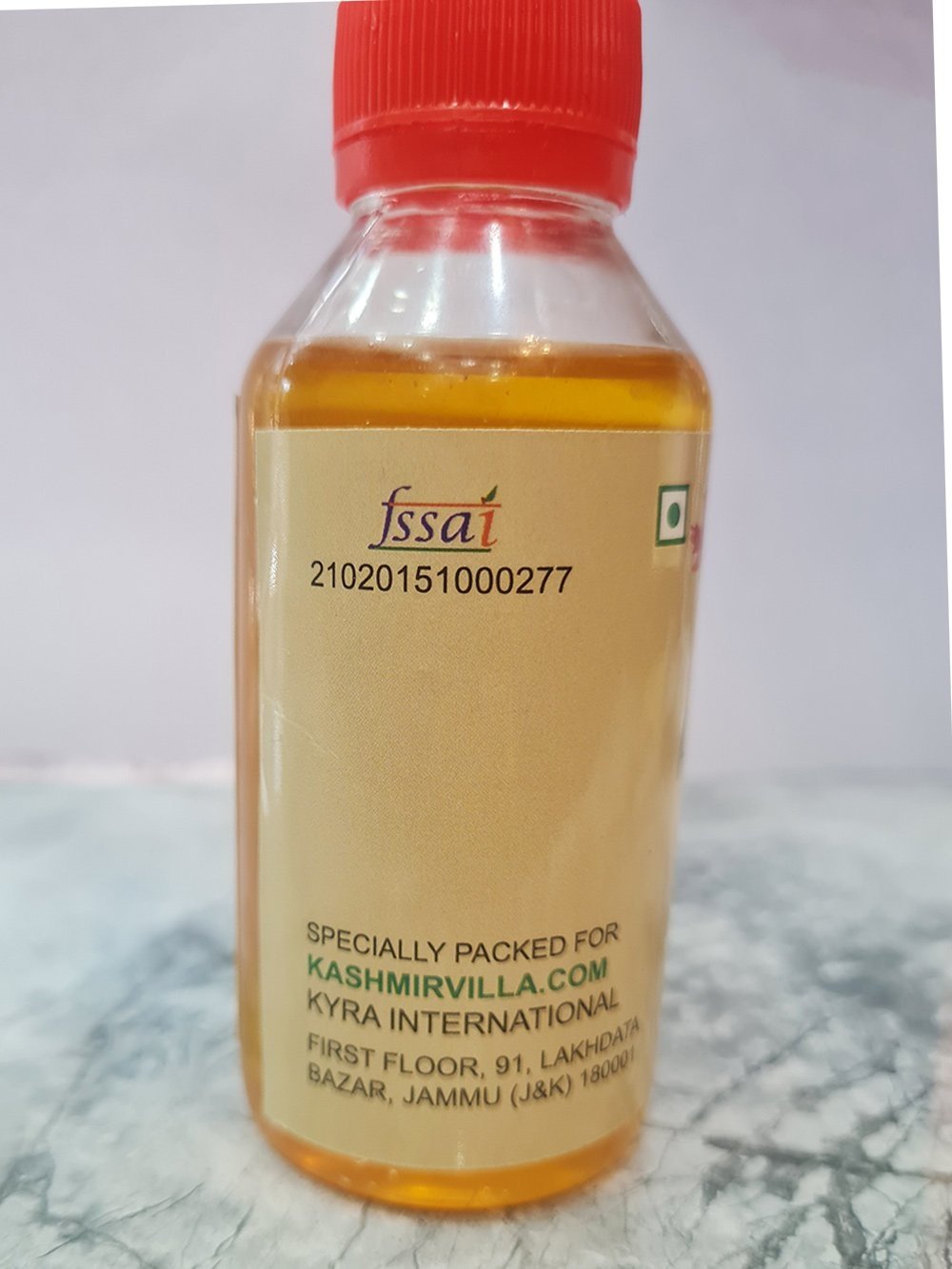 Sehatyab Kashmiri Sweet Almond Oil 100 ML
Sale price

₹ 430.00
Regular price

₹ 550.00
(/)
---
First order
Get 15% Off On First Order Use - Code FIRST15
Applicable on Clothing and Accessories Only*
Prepaid orders
Extra 10% OFF on All Prepaid Orders Min. order value INR 1000, Maximum Discount INR 150
Offer available at Razorpay Payment Page.
Free Shipping
Free Shipping All over India on Orders Above INR 699.
Sehatyab Kashmiri Almond oil is packed with antioxidants, high in vitamins E, A, D and B, contains protein, essential minerals, and healthy fats as well. It is also rich in oleic and linoleic acids. Due to its high nutrient contents, this oil is used as a skincare product. It is used not only for skin and face care but also as a medicinal oil and for treating some skin disorders.

Benefits:

For Smooth, Flawless Skin 

Almond oil is a mild, hypoallergenic oil that can be safely used even on baby skin. In fact, it is the best massage oil for infants. When gently rubbed into the skin, it gets fully absorbed, making it suitable for the after-bath application. To enhance absorption, warm the oil to body temperature before application. This natural oil has a slightly nutty smell, which most people find pleasant.

For Deep Cleansing Of Skin

Almond oil is light in texture, and can easily penetrate deep into the skin, softening and dislodging the dirt and debris accumulated in the skin pores and hair follicles. This prevents blackheads and acne. Thanks to the Vitamin A content in the oil, it may even help reduce acne flare-ups.

 

To Remove Dark Circles & Tan

If you have dark circles and bags under your eyes, almond oil can come to your aid. Apply the oil every night before going to bed. You will see a noticeable difference in about two weeks. Sun exposure can inflame the skin and cause pain and redness. Apply almond oil over these patches for quick relief. An unwanted tan can also be lightened with the oil.

 

To Treat Skin Rashes

Skin rashes are very common in the nappy area of young kids wearing diapers. In adults too, the skin may become inflamed from constant rubbing against hard materials, including underwear. Almond oil is a better alternative to these creams. For one thing, you don't have to worry about the chemical substances contained in commercial products irritating the skin further. Also, almond oil with its rich store of zinc is as good as any store-bought creams or lotions available.

 

To Reduce Fine Lines & Other Signs Of Ageing

Smooth, supple skin is a sign of youthfulness, but a structural protein called collagen is behind this flawless look. Fine wrinkles start to appear as we age because of thinning of the skin and unevenness in the collagen padding underneath. Almond oil has a role to play here.

Oxidative stress is one main reason for the deterioration of the collagen layer. Almond oil contains Vitamin E, which is one of the most potent antioxidants known. It can help repair some of the damage done to the collagen layer. The oil is especially rich in proteins and can provide the amino acids required for the formation of collagen. External application of the oil can prevent dehydration by reducing moisture loss from the skin.

 

To Control Hair Loss

Every day we lose around a hundred hair strands, but it does not affect our total hair volume because of new hair growth that replaces the old. But if hair fall is heavier than normal, our scalp will show visible signs of thinning which can be very disturbing. Deficiency of magnesium and calcium in particular results in poor hair growth and hair loss. Almond oil is rich in all of these minerals.

You need to use almond oil on a regular basis to control hair loss. Warm one tablespoon of oil and apply it to the scalp every night after your shower or bath. Rub it in gently until most of the oil is absorbed into the scalp. Leave it on overnight for best results.

 

For Healthy Nails

If your nails are thin and chip off easily, it indicates mineral insufficiency. What you need is a regular almond oil treatment. This oil is rich in zinc, the deficiency which causes brittle nails and white spots. The oil also contains appreciable amounts of B-complex vitamins and iron that also help improve nail health.
Kashmir Villa has integrated one of the best Payment Gateway in our website (www.kashmirvilla.com) for ease of secure and safe transactions for happy customers. Our Payment partners are well equipped with security standards to avoid any misconduct or spam. Your shipping address, pin code will be verified with the database of Kashmir Villa before you proceed to pay for your purchase. In the event case, your order is not serviceable by our delivery partners or the merchant or the area is not covered, we would request you to provide us with an alternate shipping address which we expect to have on our shipping partner delivery list.
Kashmir Villa monitors and deliver quality product directly from Natural source. Kashmir Villa operates with 3-5 days shipping policy for the areas covered by our reputed shipping partners. For other areas, orders will be sent by surface service which may take 1 week depending on the location.

Choose options